What is Reemployment? Recycling? Reuse?
Are you confused between these three terms? Let's try and explain:
Reuse: this refers to waste that can be reused as new, possibly changing its original use.
Recycling: this is the operation by which the raw material of a piece of rubbish is used to make a new product.
Re-employment: this allows goods which are not rubbish to be used again without modifying their original use.
To find the best example of re-employment, just take a look at what our German neighbours are doing.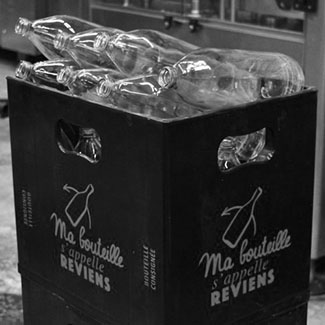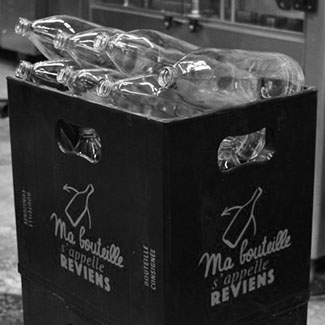 ---
Germany: a model country for reemployment
It has been more than 15 years since the Germans adopted the "Pfand" when shopping. It's the deposit principle. Although it has been enshrined in law since 2003, German consumers are not forced to apply it, rather they are encouraged to do so. How are they encouraged? By simply implementing a deposit system for glass bottles, food jars as well as aluminium cans and plastic bottles. For each container returned, customers are refunded between 8 and 25 cents at the supermarket checkout. The scheme has boosted the practice: the collection rate reaches 98.5% in the country. It's a record that demonstrates the importance of waste recovery in raising ecological awareness. The idea has since been emulated in other parts of Europe and in other sectors.
---
Reemployment is spreading to clothes, furniture and electrical goods.
A new section appeared in five AUCHAN supermarkets in France at the beginning of the year. You can find clothes for the whole family and to suit all tastes. What's so special about them? They are all second hand! These new spaces, introduced in partnership with PATAPAM, the second hand network, also allows supermarket customers to bring and deposit their clothes in good condition, but which they no longer wish to wear, in exchange for a voucher. The clothes are then sorted and checked before being offered for sale again. While it's still in test phase, the idea seems to have found its clientèle. It's not surprising that if giving away pays more than throwing away, it would be foolish not to!
---
Reemployment in the circular economy.
It's easy to see that reemployment holds a prominent place within the circular economy. And it's not surprising that it is at the heart of many projects and initiatives. In Paris, the city council has added to its bulky removal service a donation platform to encourage the reuse of objects that are still usable. Still in France, in Bordeaux a reuse village is being created. 17,000m2 of premises designed to recover, sort and refurbish books, furniture, high-tech equipment and white goods in order to give them a second life. Is reuse really the answer to all our environmental and sustainable development problems? Perhaps not…


---
What are the limits of reemployment?
While reemployment has many advantages, it would be foolish to think that it could solve everything. A recent study showed that in Germany, while the deposit back scheme has taken off, it has not prevented the increase in plastic bottle sales, which are responsible for polluting our oceans. In 2003, single use bottles represented 40% of the drinks market but, in 2019, it reached 71%. And it is undoubtedly not the recent Covid 19 pandemic and its procession of gloves, bottles of hydro-alcoholic gel and other plastic shields that should cause a drop in consumption. Reuse, recycling or reemployment? As ever, the solution to our waste problems is not always easy to find and it does not lie in just one direction, but in a combination of these three. We will need to keep (re)thinking about it.
Crédit photo ; iStock, Locaverre, Auchan, Patatam