Oceans saturated
The findings are alarming: each year between 8 and 12 million tonnes of plastic end up in the sea. That's the equivalent of a lorry load per minute. If nothing is done, this amount will reach 2 per minute by 2030 and 4 per minute by 2050.At this rate, researchers estimate that in less than 30 years there will be more plastic than fish in the sea.
---
Retailers and brand names are taking action!
13 brands and retailers met in February to sign the National Pact on Plastic Packaging.It is a Pact which joins the Ellen McArthur Foundation's network, "Plastics Pact": a platform for cooperation and exchange which unites national initiatives around a common vision of a circular economy for plastics.Auchan Retail France, Biscuits Bouvard, Carrefour, Casino, Coca-Cola, Danone, Franprix, L'Oréal, LSDH, Monoprix, Nestlé France, Système U and Unilever committed to a quantifiable approach to reduce and perhaps even see the disappearance of plastic in packaging in their products.
---
Amongst the undertakings:
A complete halt to the use of PVC in household, industrial and commercial product packaging by 2022.
Implementing measures to eliminate all other useless or problem plastics (such as PSE) in packaging by 2025.
The desire to identify, test and, if possible, industrialise three innovative solutions per year.
---
Europe is on point.
A movement that follows the latest European legislation is targeting the abolition of food containers and cups containing polystyrene by 2021.In fact, experts in the field consider that Europe has a real card to play at this table. The USA won't get there until 2024.
---
"Without the big brand names, the world will find it much more difficult to change".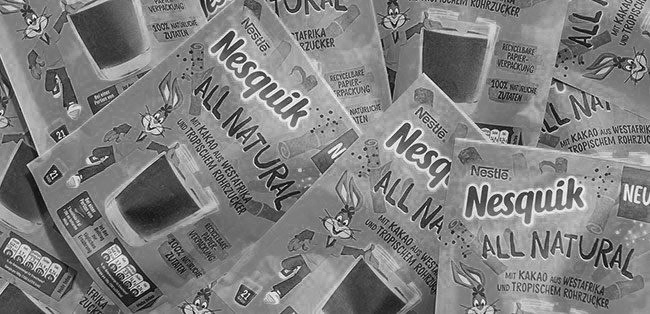 Emmanuel Faber, Danone CEO, recently declared in the media. It's a clear position for those who advocate for "activist" companies who are capable of changing the world.
Some have already taken steps in the right direction. Nesquik will be offering its famous chocolate powder in a recycled paper bag. And Coca-Cola has been making its annual plastic production public via a report by the Ellen McArthur foundation: 3 million tonnes in 2017. A figure that alone represents 20% of the global annual production of plastic bottles. It's an effort at transparency that the others are not yet ready to make.
Concretely, what does the National Pact on Plastic Packaging change?
Detergents packaged in 100% recyclable materials.

Implementing organic spaces where fruits, vegetables, pulses and cereals will not be packaged but available in bulk.

Bringing a range of shampoo and conditioner in containers made from 100% recyclable material to the French market.
Photo credit : Nesquick