Pressure from NGOs spares no one and especially not fashion brands. From street wear to luxury brands, from the corners of department stores to the catwalks…everyone has to take a stand and innovate.  With planet conservation and brand image in the line of sight they are the determining factors for success in these markets.
Fashion must control its environmental impact.
The figures speak for themselves: of the 140 billion items of clothes produced in 2019, 30% will never be worn and will end up in the bin. That's not to mention the 60 billion m2 of fabric thrown away during their production. The result: fashion is crowned the 2nd most polluting industry (after petrol). But things are changing…
A shopping basket that is green and respects the environment – could it be possible?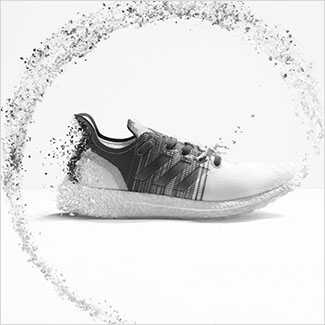 As it's a question of ethics and image, the big names in ready to wear are increasingly going down the sustainable, and even recycling, track. From this year REEBOK is releasing its first plant based running shoe. Called FOREVER FLOATRIDE GROW, this high performance trainer will be produced from castor seeds, eucalyptus and seaweed moss as well as rubber from real rubber trees. For its part, ADIDAS is going 100% recyclable with FUTURECRAFT LOOP: a trainer that is made from a single component (as opposed to other models that require fifteen) and has the advantage of being completely recyclable. Once the shoe has worn out, it can be transformed into granules that can be used to make a new trainer. A 100% recyclable product that would allow a system of rental or subscription to be set up where shoes could be returned once they're worn out. Perfect to reduce its environmental impact!
The catwalks are trying to limit environmental impact too
While the big luxury brands may have taken their time to react, they are increasingly committed to a more sustainable approach. STELLA McCARTNEY for her 2020 Spring Summer collection presented designs made from 75% recycled materials. For its part, THE ETHIQUETTE, a Parisian start up, designs dresses and outfits from leftover fabrics from couture fashion houses and are available on its website through a subscription service (from €95 per month for 4 outfits). Based on upcycling and ethical consumption, the young company also gives some of its profits to NGOs that work with women in India. It also proves that fashion can sew a more sustainable future.
CLEAR FASHION: "fashion's YUKA"
Do you do your shopping in a responsible and informed way? That's what CLEAR FASHION offers. The app allows you to evaluate more than 70 clothes brands in terms of their impact on health, people, the environment and animals. For each of these categories a mark out of 100 is given, and then a colour code ranging from red to green is allocated. Launched last September, the free app is aiming for 100,000 downloads in the medium term.

The Main Think
Virtuous and ethical. There seem to be 2 trends which will drive tomorrow's fashion market. Not from opportunity, but through necessity to continue to seduce a public that is increasingly well informed and aware of the impact of their consumption on the environment.
Crédits photos : Adidas, Clear Fashion, The Ethiquette