Why should you do social commerce?
The answer lies in a key figure: 2 hours and 22 minutes That's the average time we spend per day on social media (source: Globalwebindex 2019). In 2012, it was only 90 minutes. At home, in restaurants, in the office, on holiday, with family or between friends, this 'social activity' is taking up more of our time. Brands have now understood this: advertising investment on these new digital channels has now exceeded that spent on print advertising ($84 billion globally against $69 billion). After advertising, why not commerce?
---
How do you define social commerce?
What exactly is social commerce? Historically, the definition has been fairly broad. Simple 'shares', 'recommendations' and 'likes' were considered to be part of it. It would have been more accurate to talk about social marketing. But today, with the increase in the power of dropshipping and micro-influencers and the stakeholders that allow and facilitate direct sales on social networks, the definition has includes once more the retail aspect. It even resembles what we might call social shopping.
---
Who is doing social commerce today?
We'd be tempted to reply "Everyone!" Even if some are doing it better than others. Since 2013, STARBUCKS and its TWEET A COFFEE campaign has enabled customers to sync their TWITTER account to their STARBUCKS account, which itself is synced to their credit card, in order to gift coffees. All you had to do was tweet "@tweetacoffee to@…" adding the name of a friend for them to receive an electronic gift card to spend on a coffee. However, in just a few years, matters have improved and even accelerated to go beyond a simple marketing operation and to create a full blown structured sales channel.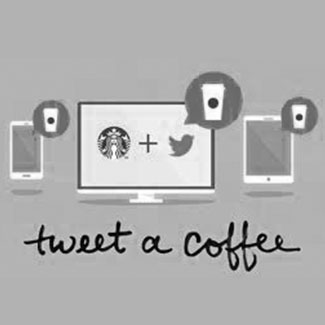 ---
Social commerce: a perfect fit for fashion?
Is it because fashion itself is a pioneering market? Or simply because it relies heavily on influencers? It undoubtedly remains the sector that is the most representative of social commerce. One of the biggest players is 21 BUTTONS. A perfect blend of PINTEREST and INSTAGRAM, the app, founded in Barcelona in 2015, allows each user to post their favourite 'looks' and to share and allocate each article with a 'button'. It is in fact an affiliation link that points to the retailer's site that sells the garment. Today the app has 6 million users, known as 'Buttoners' and it allows them, of course, to earn commission on the sales that they generate. It's this principle, half way between a social network and a market place, that POSHMARK has developed on a large scale.
---
Is POSHMARK the world's largest social fashion retailer?
With over 40 million users, POSHMARK is redefining the contours of social commerce. The app, created in San Francisco in 2011, allows over 40 million members to buy and sell second hand, as well as designer, clothes through 'Posh Parties'. Themed sales (prints, 80's or by brand) encourage discussion and exchange with people who have similar tastes. It's a new way of buying that is conversational, human and invites interaction. The technique seems to work as the app registers between 23 and 27 minutes' connection per day for each member. No wonder POSHMARK is ranked among the most popular shopping apps in the United States. But in terms of popularity, another app is already at the top of the podium.

---
FACEBOOK: the world's first social shopping network?
Mark Zuckerberg's company really is active. Having launched social media banking via WHATSAPP, it announced the launch of SHOPS, a new functionality on FACEBOOK and INSTAGRAM aimed at companies that want to sell online. FACEBOOK SHOPS will allow customers to discover new brands, browse complete product ranges and even to order on the company's website or in the shop, without having to leave the app. With more than 2.6 billion active members every month on FACEBOOK and 1 billion on INSTAGRAM, the company with the blue thumbs up boasts an impressive catchment area!
---
Crédit photo ; iStock, Starbucks, Poshmark