After digitalisation comes revegetation. Why not? Cities, shopping centres, head offices…they're all integrating nature into their design and renovation. It's a way of meeting consumers' and users' aspirations…and preparing for a future marked by rising temperatures.
---

It's going to be hot in town...
It is an established fact. It's always hotter in town. The phenomenon is well known among scientists and is known as the urban 'heat island' effect and is explained by urban characteristics (concrete surfaces, how buildings are positioned, etc.) as well as by the activity that goes on within (population concentration, transport and industry). As a result, if there's a heatwave, temperatures in large cities can go up by as much as 8°C at certain times of the day compared to adjacent areas. Revegetation can alleviate this situation considerably.
---
We've everything to gain from planting!
Thermal comfort, acoustics, well-being…it's not surprising that cities are increasingly integrating a significant part of urban planning to vegetation. In 2006 New York was a pioneer when it launched a vast participative planting programme aiming to plant a million trees which it achieved in 2014. Milan has built two gigantic towers which are home to 20,000 trees, the equivalent of 2 hectares of forest.
Whether due to increased attractiveness or employment, it has been calculated that every euro invested in tree planting brings five euros to the community. It's not surprising then that these types of initiatives are spreading to the private sector.
---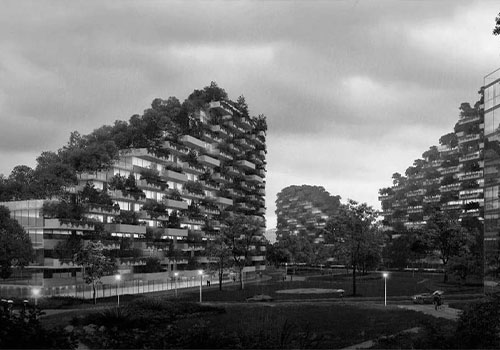 Greener headquarters.
Apple's Apple Park (the most expensive company headquarters in history, costing a total of more than 4 billion dollars) has set the course. 260,000 m2 of offices, 3kms of cycle paths, 9,000 trees planted and functioning 100% on renewable energy. We should acknowledge other successes too. Quicksilver Europe's campus (in the South-West of France) and its surprising concept of offices in the forest. Or The Edge, the Deloitte headquarters, in Amsterdam, which in 2015 was elected the world's greenest building, and which combines solar panels, geothermal energy and even connected sensors which allow employees to individually adjust lighting and temperature at their work stations via an app.
---
And what about retailers?
Here too, revegetation is at the heart of future projects. The most emblematic: undoubtedly architect Vincent Callebaut's WOODEN ORCHIDS, a 20,000m2 shopping centre. The space would be home to no less than 200 shops specialising in the sale of organic food, a farmer's market, as well as flower-filled tea gardens, all in passive, eco-responsible buildings which will run on solar, wind and geothermal energy. This new commercial and cultural experience will be able to make energy savings of up to 70%. The project is planned for China and could emerge from the ground in the next few years. It's one to watch…
---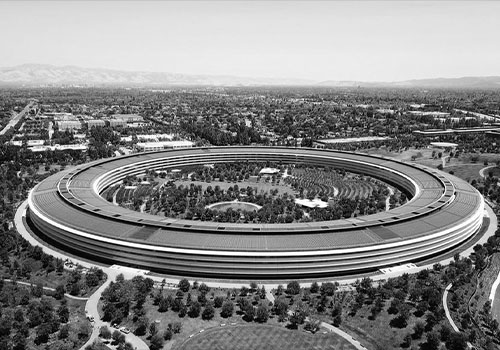 The Main Think
+1.5°C. This is what we can expect between 2030 and 2050, according to the latest IPCC (Intergovernmental Panel on Climate Change) report.  Faced with such a climate shake up and upheaval, the answer does not only lie in green walls and roof-top vegetable plots. But perhaps if we all did our bit…
Crédits photos : APPLE PARK / EDGE ATRIUM / FUTURA SCIENCE / WOODEN ORCHIDS